Kindergarten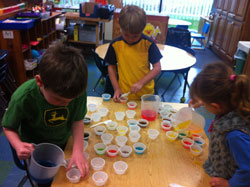 Our programs are based on the needs of the children.
Everything we do is the result of a conscious decision based on what is best for the child.
Our Program

Purpose

Must attend 5 mornings per week, and may choose as many afternoons as desired

To provide consistency in learning
To allow flexibility for parents
To develop cohesive relationships with peers and teachers

Language and Literacy

Whole language (theme-based units which weave goals and objectives throughout all academic areas)

and

Zoophonics Phonics (use of sounds and signals, plus stuffed animals to teach letter sounds)

Partner and small group work
Speaking in front of a group

Immerses children in meaningful print
Reaches all styles of learning (auditory, visual, kinesthetic)
Makes learning letters sounds fun and easy
Develops teamwork
Develops problem solving skills
Allows for peer teaching
Builds self confidence
Modeling for preschoolers

Math

Use a variety of colorful, tactile materials
Small group work
Real life application

Encourages active participation
Provides movement while working
Provides individual attention from teacher
Meaningful use of knowledge

Actively teach emotional intelligence skills

To focus and attend
To follow 3 step oral direction
To persist if difficult
To problem solve
To work with peers
To express feelings and needs appropriately
To control impulses
To delay gratification

These are the necessary skills that provide the foundation for academic success.

Science

Exploring our world
Experiments

Creates curiosity and encourages question asking
Creates excitement about science
Develops patience in observation as well as scientific skills
Special activities provided:
Swimming - 8 week lessons as a group
Field trips - related to curriculum
Computers - exposure to educational games to reinforce concepts
Science - exploring our world
Music - songs and instruments
Movement - becoming aware of how our bodies work; promoting teamwork and sportsmanship
Testimonials
Extremely good kindergarten. Get to know the preschool and toddler teachers . . . they are good people and very sincere. Paidea staff are really good; makes interacting with Paidea a pleasant experience.
Madu C.

Paidea
Child Development / Childcare for
Toddlers, Preschoolers, Schoolagers, & Kindergarten
Nurturing little ones since 1984!
Contact us!